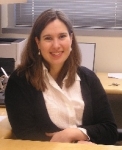 June 16, 2010
Melissa Kemp, Ph.D. was named the winner of the third annual Council for Systems Biology in Boston (CSB2) Award, sponsored by Merrimack Pharmaceuticals, Inc. The award was presented this morning during the CSB2 2010 International
Conference on Systems Biology of Human Disease.
May 31, 2010
Mark Prausnitz, PhD. presents the Medtronic Lecture in Biomedical Engineering at the University of Oxford, United Kingdom, on June 2, 2010.
May 18, 2010
Modeling control of the electric power grid on the brain
Posted: Wed, May 19, 2010
Pages