Private support gives the Coulter Department the resources to take the lead in new initiatives, to weather cyclical changes in support from government, and to make long-term investments in constantly changing technology, often before needs or opportunities are recognized by others. Support can be directed to BME faculty, students, and facilities.
Enhance educational opportunities for our students;
Fund research that positively impacts human health and well-being;
Weather cyclical changes in the economy or from government support;
Make long-term investments in constantly changing technology, often before needs or opportunities are recognized by others.

Because of the nature of Coulter BME's structure — a unique collaboration between Emory University and Georgia Tech, but which does not exist as a separate nonprofit or educational entity — charitable contributions need to be directed and processed through one of these partner organizations. Support through either university will benefit the department as a whole.
For questions about directing support
Greatest Needs
Unrestricted giving allows the department the flexibility to address its most pressing needs, supporting everything from scholarships to academic innovations to research priorities, enabling the most promising initiatives for students and faculty.
Emory University – Make a gift to the "BME Chair's Discretionary Fund" at http://engage.emory.edu/BME.
Georgia Tech – Visit http://development.gatech.edu and click on the "GIVE NOW" button in the upper left. Under "Other Designations," indicate "BME-General (#555788)," which is the discretionary account at Georgia Tech for the department.
Key Priorities
COVID-19 Related Needs—like many institutions across the country, the current health crisis has created challenges for the department, but also presents a unique opportunity to positively impact health outcomes. Our most pressing needs at the moment are:
Support for graduate students adversely affected by the closure of labs;
Funds for COVID-19 related research activity.
Biolocity
Biolocity is BME's initiative to provide university innovators with the financial resources and guidance needed to advance translational science connected to early-stage medical technologies in order to achieve critical commercialization milestones. 
Connect with Biolocity today!
Design Garden
BME is currently seeking resources for the design, build-out and equipping of the BME Design Garden on the Georgia Tech campus. This initiative will be a dedicated space for students, faculty, and department partners to catalyze, cultivate, and collaborate on user needs and design solutions connected to their Capstone Design coursework and for entrepreneurial efforts such as Create-X and Inventure Prize.
Endow a chair: Endowed chairs attract, support, and retain eminent teacher/scholars in specialized areas. Senior faculty chair holders attract talented students and faculty, stimulate research, and help leverage funding.
Professorships:  Income from these named endowments will be used to support outstanding faculty. Professorships give faculty the resources to remain at the forefront of teaching and research. The funding will be used to seed research projects and for travel, equipment, and student research assistants.
Junior faculty awards:  These awards are given to the most promising junior faculty members. They help the department retain and attract faculty who are tomorrow's leading teachers/scholars. Five-year grants are awarded to encourage innovation in teaching and research and nurture professional advancement during the critical pre-tenure years.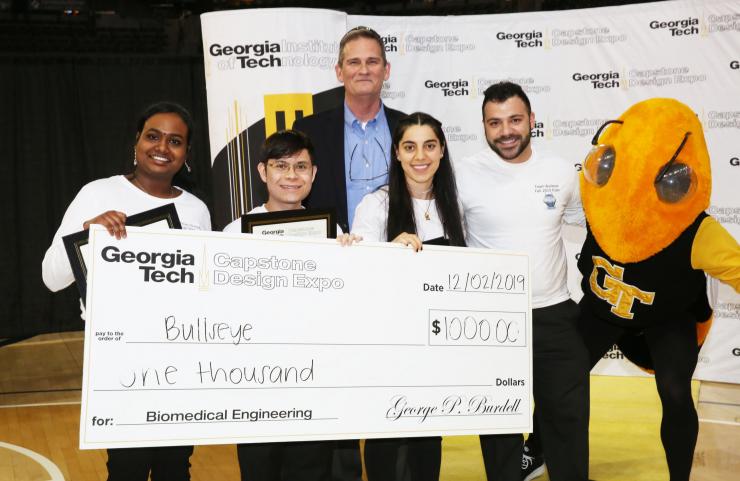 The winning BME team members are Oscar Gutierrez, Doraville, GA; Ahmed Alnamos, Watertown, MA; Nishani Kanthasamy, Alpharetta, GA; and Sondos Alnamos, Watertown MA. The team's project sponsor was gastroenterologist Dr. Anand Sagar Jain at Emory Healthcare.
Funding for current operations: Unlike endowments, gifts for current operating funds are available for use in the year received. Unrestricted gifts support core academic and programmatic needs and provide seed funds for new academic initiatives.
Permanent endowments:  The Institute encourages school-based unrestricted endowments to provide maximum flexibility in meeting pressing needs and support for new initiatives. There are several opportunities for recognition.
Bequests and other planned gifts are some of the greatest sources of funding for Emory University and Georgia Tech. These gifts, when directed to BME can help stabilize the department's financial foundation, securing its future while perpetuating a legacy of giving.
Estate Gifts
Will or Living Trust Provisions enable you to direct the distribution of your assets at your death.
Retirement-Plan Assets are a tax-wise and easy way to make a gift for BME's future.
Life Insurance also can provide security for Tech's future.
Life-Income Gifts
Charitable Gift Annuity is a great way to support BME while supplementing your and/or your spouse's retirement income with the assurance of fixed quarterly payments.
Charitable Remainder Trust is a popular way of making a significant gift while providing income to the donor and/or other beneficiaries through fixed or variable payments.
Other Gift Plans
Charitable Lead Trusts allows you to provide a stream of gifts to the department for a number of years, and then transfer assets to heirs at a reduced tax level.
Retained Life Estate means giving your home and receiving a charitable deduction now with you and your spouse living there for your lifetimes.