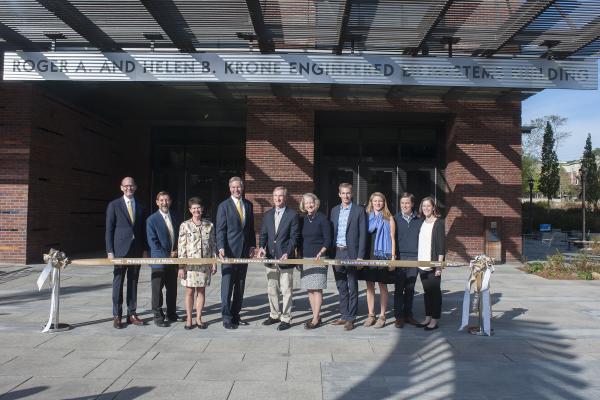 The official naming of the Roger A. and Helen B. Krone Engineered Biosystems Building took place during Georgia Tech's homecoming festivities October 20, 2017, in Atlanta. From left are Steve McLaughlin, dean of the College of Engineering; Paul Goldbart, dean of the College of Sciences; Val Peterson, first lady of Georgia Tech; G.P. "Bud" Peterson, Georgia Tech president; Roger Krone; Helen Krone; Michael Krone, the Krone's son; Lauren Krone, the Krones' daughter; and David and Susie Krone, the Kro
The Georgia Institute of Technology celebrated the naming of its engineered biosystems building for Helen and Roger Krone in a special ceremony during Homecoming festivities October 20, 2017, in Atlanta.
The Krones contributed a lead gift in support of the building, which opened in 2015 as an interdisciplinary facility for researchers from biology, chemistry, and engineering working to elevate understanding of living systems and bring about new cures for diseases. The Roger A. and Helen B. Krone Engineered Biosystems Building also houses the Children's Pediatric Technology Center, a research partnership with Children's Healthcare of Atlanta and Emory University.
"The research conducted at this University is pivotal for advancing the human condition," said Roger Krone, chief executive officer of Leidos and a 1978 aerospace engineering graduate from Georgia Tech. "Tech is well known for creating innovation in engineering and lately in the areas of software and computer science. We believe that the next big area for Tech is the area of engineered bio-sciences.  It is through this research that we will find a cure for cancer, diabetes, and other chronic conditions that cause so much suffering to so many. It is my hope that the new Georgia Tech Engineered Biosystems building will become the cornerstone that enables acceleration of scientific discoveries in these areas."  
The Roger A. and Helen B. Krone Engineered Biosystems Building is organized around research neighborhoods: chemical biology, cell and developmental biology, and systems biology, and provides 219,000 square feet of shared laboratories, offices, and common spaces. Stairs alternate on various floors, encouraging people to move within the neighborhoods and interact with one another.
"The Roger A. and Helen B. Krone Engineered Biosystems Building is a living example of what is possible through vision and collaboration," said Georgia Tech President G.P. "Bud" Peterson. "We're grateful to the people who envisioned what this building could be, and then invested their creative energy to help make the dream a reality.
"Lives will be changed and enriched by the collaborative work in this incredible facility. Thousands of children will have the gift of a happy, healthy childhood. The potential impact is global," Peterson said.
Roger Krone is the CEO of Leidos, a leader in science and technology solutions in defense, intelligence, homeland security, and civil and health markets. Before joining the company, he was president of Network and Space Systems for The Boeing Company, and was vice president and treasurer of McDonnell Douglas at the time of its 1997 merger with Boeing. Krone first began working at McDonnell Douglas in 1992 as director of financial planning after spending 14 years at General Dynamics. 
Helen Krone is secretary, treasurer, and financial manager for the Krone Foundation. She is a member of the board of trustees for the Mountain Retreat Association, which manages the Montreat Conference Center, a national Presbyterian conference center in North Carolina.