Commencement 2021: Brielle Lonsberry's Passions for Public Health, Helping People Merge as SGA President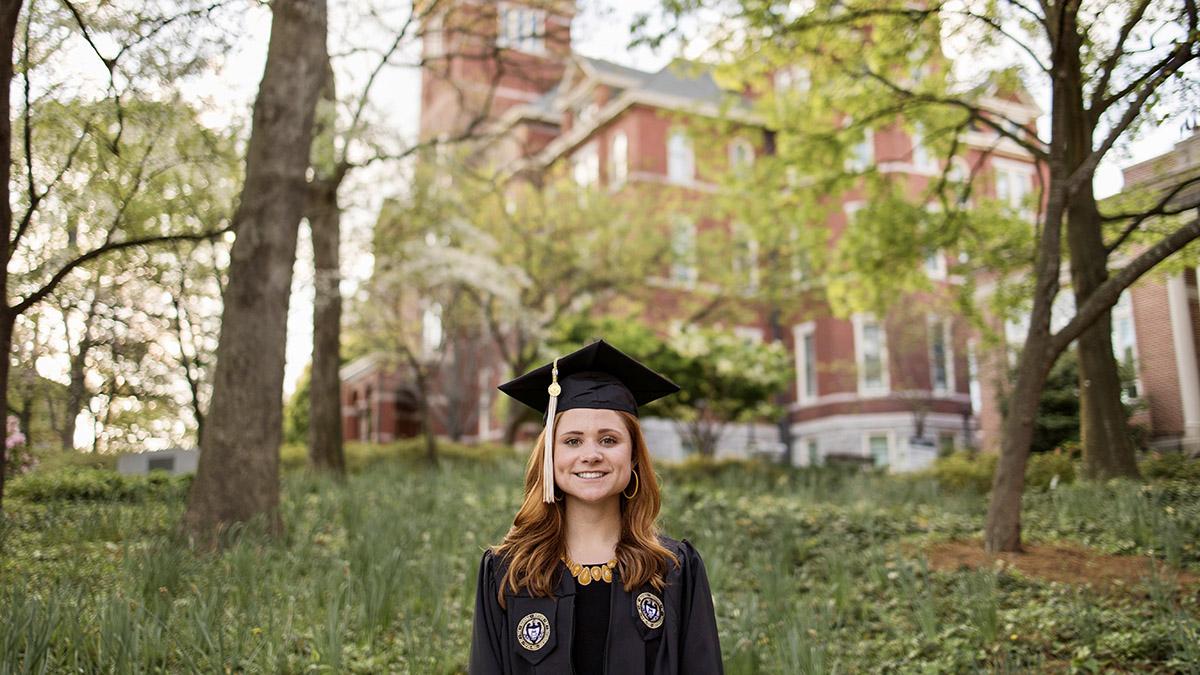 Brielle Lonsberry's time at Georgia Tech has been packed with study abroad, sorority membership, the Coulter BME Student Advisory Board, and more. Her final year has perhaps taken that to a new level: She just finished her term as undergraduate Student Government Association president. (Photo Courtesy: Brielle Lonsberry)
Brielle Lonsberry and her running mate Kyle Smith had all sorts of plans for their potential tenure as undergraduate student body president and vice president when they were campaigning in the spring of 2020.
But those plans disintegrated as the coronavirus pandemic upended life around the globe just before students voted. And when Lonsberry won that election, she and Smith realized quickly where their focus had to be.
"Kyle and I and our whole campaign team, we had a whole platform that we were so excited to be able to focus on this last year. Of course, when Covid hit, we said, 'That's not our priority anymore; we have to focus on Covid,'" Lonsberry said recently, fresh from handing the reins over to a new team of student leaders.
Lonsberry estimates probably half of her Student Government Association (SGA) time was focused on Covid-19 and helping campus leaders as they worked to get students safely back in classes and figure out how to operate campus. Twice a week, she joined the Georgia Tech recovery task force meetings to hear the latest and represent students while offering the hands and voice of SGA for the work that had to be done.
"I keep joking that when I graduate, I'm expecting my bachelor's in BME, but also my master's in public health," Lonsberry said, "because I have learned so much about public health this last year."
Brielle Lonsberry's Capstone Design team, which won the top biomedical engineering award among teams at the Spring 2021 Capstone Design Expo. They developed a screening tool to help doctors assess babies' ability to properly breastfeed. The team was, from left, Simran Dhal, Emma Kate Costanza, Amanda Wijntjes, Austin Stachowski, and Lonsberry. (Photo Courtesy: Brielle Lonsberry)
As she prepared to graduate with her bachelor's degree this weekend, the biomedical engineering student said it was certainly a difficult time to be SGA president — but perhaps the most rewarding time, too.
"Even before Covid, I was interested in public health," Lonsberry said. "I've learned that I really am passionate about public health. And [this year] confirms that I do want a career in public health."
As things have calmed somewhat this spring, Lonsberry and her team in SGA have been able to revisit some of those original pre-pandemic ideas. She said her team worked to hold the line on mandatory student fees, working with the committee that sets the fees to make adjustments without increasing the total amount. Lonsberry said she's been most proud of their work on Title IX policy in Georgia, which had to be updated based on new federal guidance for responding to complaints of sexual misconduct on campuses.
"I was able to work closely with some of my cabinet members, and we started a University System of Georgia-wide SGA campaign to make sure that the new Title IX policy written and adopted by the state was very survivor-focused. That was a really cool part of this year," she said.
That is a lot of impact for someone who had no connection to Georgia, Georgia Tech, or Emory University a few years ago. Lonsberry is originally from West Palm Beach, Florida, and she knew biomedical engineering would nicely blend her interests in math and science with her passion for people and their health. She also knew the Wallace H. Coulter Department of Biomedical Engineering was one of the nation's best programs.
"I was really able to fall in love with the school on my own and decide, this is the place that I love. I love the culture, I love the people, I love the opportunities that I'll be able to have on this campus," she said. Looking back four years later, she said she was right: "I've been able to experience more and accomplish more at Georgia Tech than I ever thought that I would and could."
To wit: Lonsberry has served as a student ambassador and a member of the Coulter BME Undergraduate Student Advisory Board. She studied abroad in the BME Galway Summer Program in Ireland, and she traveled to Eastern Europe through the Leadership for Social Good Study Abroad Program. She joined a sorority and added a minor in leadership studies.
In other words, she squeezed every drop out of her years at Tech.
As she celebrates what's to come, Lonsberry is also been reflecting on what she's learned, especially over the challenging past year — that her voice is more powerful than she realizes sometimes; that how she approaches people and problems really does matter; and that things that seem really crazy and scary sometimes aren't that crazy and scary when you have the right people supporting you. And she thinks a lot about something a Tech administrator she's worked with this year told her: "He said, 'Brielle, when you win, who wins with you?' That's really powerful."
After graduation, Lonsberry has a job lined up as an associate at Boston Consulting Group in Atlanta, and she already has her eye on getting that master's degree in public health down the road.
"I've loved every second of being at Georgia Tech," she said. "It has not been easy. It has definitely been very challenging at times, and life has thrown crazy curveballs. But I have never been prouder to be a Yellow Jacket. And I'm so proud to have been a part of the BME Department."
---
Do you have any key memories from your years here that have stuck with you?
I think what I'll value most about the last four years are, of course, my friendships with people my age, but then also the relationships I've been able to build with faculty and administrators here on campus. Especially within the BME Department, being able to get to know my professors really well, like Dr. [Wendy] Newstetter. We would just hang out and get coffee and just catch up and talk about careers and random things.
One cool memory that I've been thinking about the last few days is about Austin [Stachowski] on my Capstone Design team. We were in our very first class ever at Georgia Tech together — so, Monday at 8 a.m., we were in that class together. And now we were in our very last class at Georgia Tech together. It is really cool to see some of the friendships that have just stayed throughout all four years.
Was there a particular class or a professor that had a significant impact on you?
Professor Bill Todd. I'm very close with him. He's actually a professor of the practice in Scheller [College of Business]. I took his Management in the Healthcare Sector course, and I've been able to do a practicum with him at Children's Healthcare of Atlanta. He's just been such a great mentor to me. He's like the go-to person if you're interested in public health and want a career in public health, and so, he's been great in helping me merge my BME degree with what I'm passionate about and [giving me] exposure to public health while I'm here at Georgia Tech. I can't give him enough kudos. He's amazing.
Contact
Joshua Stewart
Communications Manager
Wallace H. Coulter Department of Biomedical Engineering