Tool to Assess Newborns' Ability to Breastfeed Takes Top BME Prize in Spring Capstone Expo
A screening tool to help make sure newborns can properly breastfeed took top honors among the biomedical engineering projects at the Spring 2021 Capstone Design Expo April 27.
Breastfeeding is widely recognized for its health benefits, but many mothers and babies have difficulty in the first few days after birth. The Milk Maid measures how well an infant is able to create the negative pressure necessary to properly draw in milk, giving doctors clinical data to decide if medical intervention is necessary or if other issues, like technique, are at play.
"There are so many experts, all with different opinions about the potential problems in breastfeeding, but there's no objective evidence," said Brielle Lonsberry, a senior from West Palm Beach, Florida.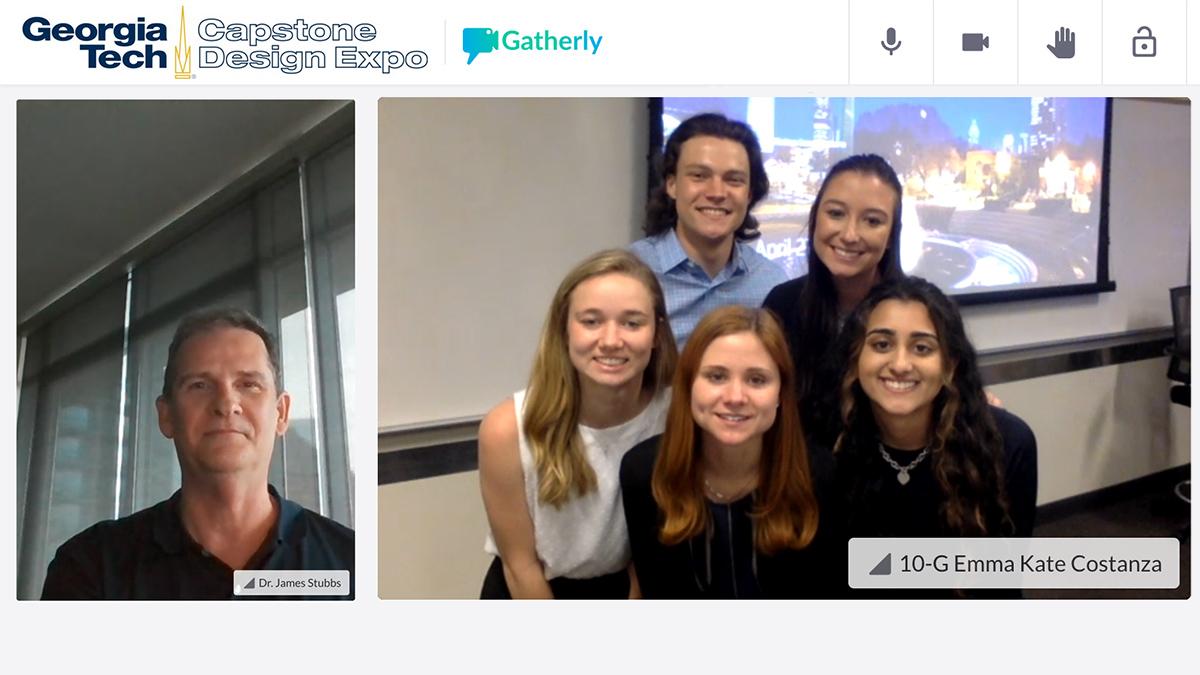 The first-place biomedical engineering team with advisor James Stubbs on the Gatherly platform after the Spring 2021 Capstone Design Expo. In the front row, left to right, are Team Milk Maids members Emma Kate Costanza, Brielle Lonsberry, and Simran Dhal. In the back are Austin Stachowski, left, and Amanda Wijntjes.
Team Milk Maids was one of 30 solutions presented by Wallace H. Coulter Department of Biomedical Engineering undergraduates at the expo. More than 180 teams showcased their work in a virtual version of the event that typically packs Georgia Tech's McCamish Pavilion each fall and spring to show off senior design projects.
The team worked with their sponsors at Emory Healthcare to develop a device to fill that gap. They also reached out to physicians at Children's Healthcare of Atlanta for expertise, and before long, they had a whole cadre of doctors there helping to refine their ideas.
"Our novel device offers exactly what clinicians identified as the greatest need: quantifying infants' sucking ability," said team member Simran Dhal from Milton, Georgia.
The team has filed a provisional patent on the screening tool they created, with hopes that it could progress to a clinical trial — even if they're not involved.
"We all really view this as the first step in quantifying breastfeeding, to helping doctors feel like they're really able to support their patients better," said Austin Stachowski, another member of the team from Milton. "This is one quantification that opens the door to so much more and to better treatment."
Team Milk Maids also included Emma Kate Costanza from Columbus, Georgia and Amanda Wijntjes from Annapolis, Maryland. Wijntjes said they've all known each other since their first year on campus, but they never had the chance to work together — until now. She said it has been an appropriate culmination of everything they've done over the last four years.
The overall best project at the spring expo went to Team StrideLink, an interdisciplinary team that included biomedical engineering student Cassandra McIltrot. They designed a simple, cheap, wearable device for gait analysis.
Other biomedical engineering teams included some work on gait — developing a virtual reality game to help people with difficulty walking improve their gait. Teams also created a robotically assisted knee rehabilitation device, built a machine to make at-home hemodialysis easier for patients, and much more. (See all of their work in the Coulter BME Virtual Expo.)
Working with Mayo Clinic Jacksonville, Team ScolAlign created a system to help doctors accurately measure the position of a patient's spine during spinal realignment surgery. They developed a deep learning algorithm that automatically detects markers and calculates two key measurements of spine alignment, the Cobb angle and plumb line. It sets up quickly and reduces the need for X-rays in the operating room.
"ScolAlign has developed a fully integrated system that measures spinal curvature and spinal balance with no radiation — all with just the click of a button," said Yoel Alperin, a senior from Sandy Springs who worked on the project with Sindhu Kannappan from Marietta; Parth Gami from York, Pennsylvania; and Kelly Qiu from Cranbury, New Jersey.
The team said the device proved more than 90% accurate in their testing.
"Surgeons will no longer have to use makeshift gadgets to measure spinal alignment, expose themselves to more radiation than needed, or risk the patient developing an infection due to surgery length," Alperin said.
Two other projects tackled issues that have come to the forefront during the coronavirus pandemic. One group developed a system for putting on and removing powered respirators that are critical personal protective equipment for hospital workers. The other created a tool to help doctors collect physiological data during telemedicine visits.
The PAPR MagStand uses magnets and an adapted design of the Powered Air-Purifying Respirator (PAPR) hood to allow health professionals to quickly suit up. Designed by Abby Kettle and Maria Luna from Atlanta; Gianni Natale from Allendale, New Jersey; Dwayne Watkins from McDonough; and Ming Wen from Shenzhen, China, the MagStand uses magnets to hold the hood, which has metal strips on the side, and a small shelf for the purifier's battery pack. The design minimizes contact and potential contamination.
"Since the start of Covid-19, there have been no adaptations of the PAPR to the fast-paced environment that healthcare workers face on a day-to-day basis in hospitals. There are no specific instructions on donning and doffing procedures, much less decontamination procedures for the PAPR itself," Natale said. "The MagStand presents the quickest and most effective solution in reducing risk of contamination for healthcare workers."
Team HeartThrobs tackled a key limitation of virtual doctor visits: the inability to touch patients or listen to their heart, lungs, and other organs. This practice, called auscultation, usually requires listening through a stethoscope. Ram Akella from Lilburn; Keval Bollavaram from Snellville; Ahdil Gill from Roswell; and Atharv Marathe and Sil Savla from Johns Creek came up with a way to stretch that stethoscope across the virtual miles with their AusculBand.
"The AusculBand improves the physician's diagnostic capabilities by enabling audio recordings and real-time audio transmission that can be sent directly from the patient to his or her physician," Gill said.
Savla added: "Our device underwent rigorous frequency-response testing to ensure it captures all critical sounds. We conducted noise-comparison tests against the competition and even redesigned our stethoscope head to maximize sound clarity. Our results show that the sound we captured is over 50% clearer than the leading digital stethoscope."
Contact
Joshua Stewart
Communications Manager
Wallace H. Coulter Department of Biomedical Engineering