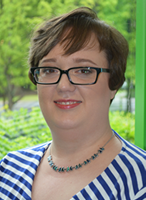 Linda Harley
Lecturer
UAW 3121
770.561.1825
Research Interests:
Interface design and testing of medical devices
Dr. Linda Harley has a strong desire to tell empowering and engaging stories by leveraging new technologies. As a child, when she was supposed to be taking a nap, she would instead sit for hours telling herself stories of fantastical worlds using her fingers for characters and imagining that she was off on an adventure. Dr. Harley reads and reviews on average 100 books a year, and has published one short story, one full length novel and is working on her second novel. She is an accomplished musician and holds a grade 7 diploma in piano from the Royal School of Music. Dr. Harley graduated from Georgia Tech with a Bachelors of Engineering in 2002, MS in 2004, and a PhD in 2011 in Applied Physiology. Her post-doctoral work focused on understanding the behavioral psychology of how people interact with technology, in order to develop user interfaces that are more engaging and user friendly. She has over 15 years experience in software development and interactive media, such as designing a Wii game based on rehabilitation principles to help stroke survivors. She has published over 30 articles and papers spanning a range of topics in interactive media and human computer interaction. Linda's dream is to merge creative art with technology, to tell stories in new and interesting ways, and to provide enhanced learning environments for students.
Current research interests include:
User Interface design and testing of medical devices.
Monitoring peoples hydration levels from the home to the work environment, using advanced sensor technology.
Merging visual and text base learning environments to enhance students experience.