Researchers Find New Drug Can Quickly Reverse Eye Pressure Increases from Steroid Eye Drops
Study suggests turning to netarsudil sooner for these hard-to-treat patients could help preserve their sight.
March 31, 2021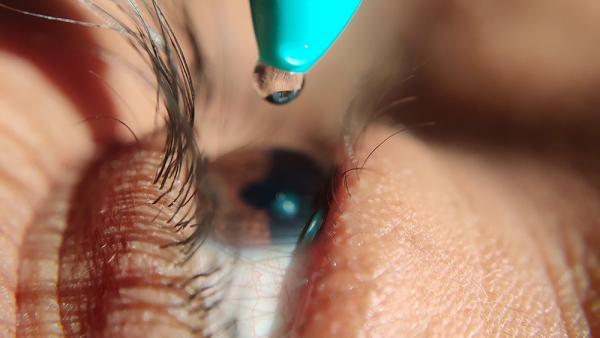 Commonly used steroid eye drops can lead to elevated pressure inside some patients' eyes. A new study from researchers in the Wallace H. Coulter Department of Biomedical Engineering at Georgia Tech and Emory University suggests a relatively new glaucoma drug works quickly to reverse — and prevent — this rise in pressure, even in patients who don't respond to other treatments. (Photo Courtesy: Aakash Kumar via Pixahive)
Mar 31, 2021 —
Doctors routinely prescribe steroid drops for patients after eye surgery or to treat eye inflammation or swelling. Those drugs can cause a sharp pressure increase inside the eyes, however, requiring additional treatment to prevent damage to patients' sight.
Researchers have found a relatively new drug works to quickly reverse — and prevent — the rise in intraocular pressure that can result from using ophthalmic steroids, even in patients who don't respond to other medications. Their findings are published March 30 in the journal eLife.
"It's really hard to treat those patients. They come in with a very high pressure, and they tend to throw the kitchen sink at them in terms of trying to get the pressure down," said C. Ross Ethier, professor in the Wallace H. Coulter Department of Biomedical Engineering at Georgia Tech and Emory University and one of the study's corresponding authors.
Working with collaborators at Duke University, Ethier's team reviewed patient charts to find people who weren't responding to any treatment — until their doctors tried netarsudil, a new drug approved by the U.S. Food and Drug Administration to treat the most common form of glaucoma, called primary open-angle glaucoma.
"It's a little bit of a Hail Mary pass, but the physicians started treating their patients with this new drug, and it actually did a heck of a good job in terms of lowering the pressure in the eye," Ethier said. "That's actually pretty exciting — it opens up the idea that if you have a patient who's not responding to standard treatment of steroid-induced glaucoma, it might be worth considering this new netarsudil drug."
Since it's so new, netarsudil is expensive and not commonly prescribed. But Ethier said their findings suggest turning to the drug sooner for patients experiencing the pressure-increasing effects of steroid eye drops — it could help preserve their vision.
Eye pressure is regulated by a complex network of tissues that secrete, circulate, and drain fluid in the eye. In glaucoma, the drain gets backed up. Physicians typically use several kinds of medications to counter higher intraocular pressure for patients using steroid drops: Some activate a secondary drainage network while others cause the eye to make less fluid in the first place.
Those are indirect routes to solve the problem, Ethier said. Netarsudil goes right at it, targeting the eye tissues that naturally drain fluid to "unclog" them.
"We think the reason this drug is so effective in this particular form of glaucoma is that the pathology is really localized to the drain, and because this type of disease comes on fast, you can hit the drain right away," said Ethier, who is also the Georgia Research Alliance Lawrence L. Gellerstedt Jr. Eminent Scholar in Bioengineering.
To better understand how the drug targets the draining tissues — known as the trabecular meshwork — the researchers turned to an established and reliable mouse model. A hallmark of steroid-induced glaucoma is deposition of extracellular matrix in the trabecular meshwork. Ethier said their experiments showed that netarsudil seemed to be very effective at opening the drain, so to speak, by reducing this matrix material, which normally helps support and bind cells together.
"In a patient, it's actually quite hard to know what's going on to cause the pressure to become lower. There are measurements that you can't make in a patient that you can make in a laboratory setting," Ethier said. "We hypothesized that this effect we observed was due to the unblocking of the drain, but really, the only way to confirm that was to use this mouse model of the disease."
Ethier worked with longtime collaborator Daniel Stamer at Duke on the study as well as clinicians at Duke and Washington State University. He said pressure regulation in the eye is a complicated system that still is not well understood. In addition to offering a potential new treatment for patients, he said, their work unravels a bit more about how the system functions.
"This study tells you something about how the whole system is working," Ethier said. "We've been studying it for many years — not just my lab, but the broader community. And every time we find something, it's like, there's another layer on the onion."
This research was supported by the National Institutes of Health, grant Nos. EY030124, EY031710, and EY005722; the BrightFocus Foundation; Research to Prevent Blindness; the Georgia Research Alliance; and Aerie Pharmaceuticals. Any opinions, findings, and conclusions or recommendations expressed in this material are those of the authors and do not necessarily reflect the views of any funding agency.