Making Room for Innovation
Student startup Elbowroom piloting passenger counting tech with Atlanta's MARTA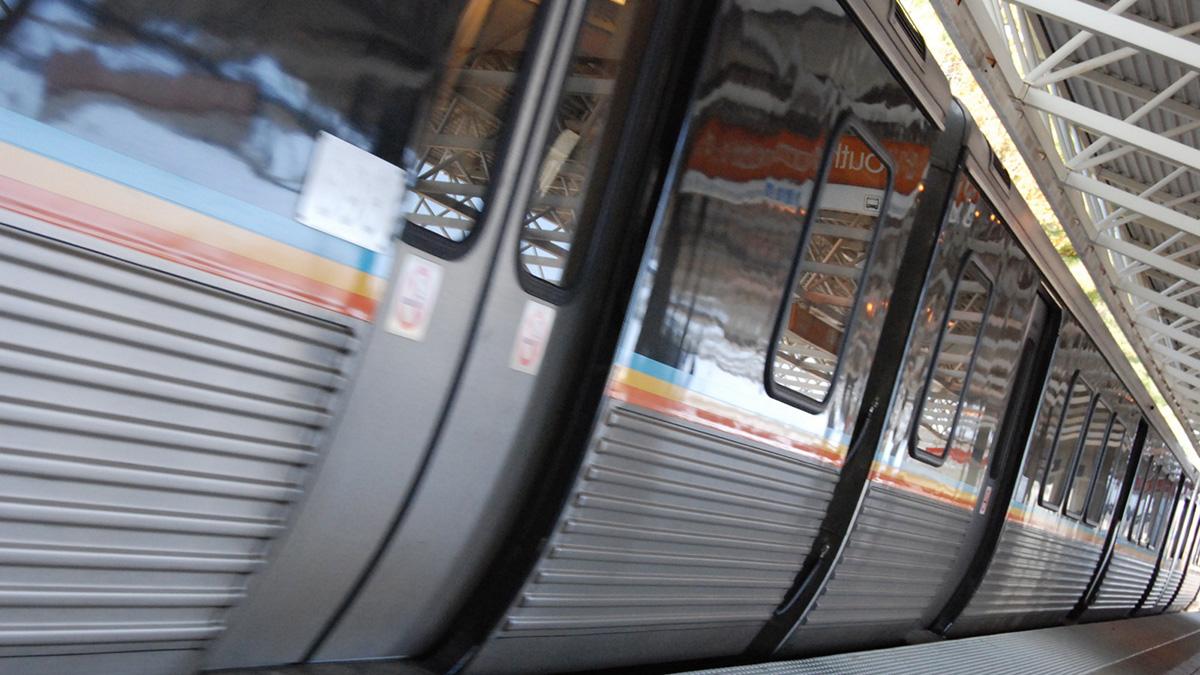 Student startup PopTracker is working with MARTA — the Metropolitan Atlanta Rapid Transit Authority — to pilot their real-time passenger counting technology. After developing the idea during the pandemic to help with social distancing, the team sees potential for their approach even as pandemic restrictions ease. (Photo Courtesy: Josh Hallett via Flickr)
At the onset of the Covid-19 pandemic, a group of five Georgia Tech students decided to apply what they had learned about data science in their classes to help those affected by the pandemic.
Undergraduate biomedical engineering students Davis White, Thomas Beckler, and Jaime Vera teamed with Ricardo Meizoso (ME), Leonardo Ricci (CS) and Nicolas Mirchandani (ID) to take a data science-focused approach to social distancing and pandemic regulations and created a transit car Automated Passenger Counter.
The team's device tracks the number of people moving in and out of public transit cars and was inspired by pre-Covid-19 technology used on college campuses to track movement patterns across major buildings, such as libraries and dining halls. Their plans for the Automated Passenger Counter device led to enrolling in the MIT Covid-19 Challenge hackathon, winning their division, and creating their startup, PopTracker. The desire to help communities and use the classroom skills to enact change has been a constant in the team's journey from hackathon competitors to a student-led startup.
"I knew some of the skills that Georgia Tech taught me could help make a difference in communities if applied them the right way, and so Thomas Beckler and I organized a team full of people that wanted to do something," said White, who has finished his biomedical engineering degree and is now CEO and project lead of the company, now called Elbowroom.
 
Elbowroom's Technical Development
The team wanted to create a device that acted as a low-cost Automated Passenger Counter and could be put in transit or train cars to count the number of people in a given space and report the data in real time to a transit application, such as Google Maps or WAZE. To accomplish this, the Elbowroom device uses WiFi sensors and Bluetooth sniffing, which are common methods of counting devices in a certain area; however, the number of devices in a train car does not usually equate to the exact number of passengers, which is where the team's novel machine learning algorithms came into play.
"We're taking a data science approach to solve the inaccuracy that WiFi and Bluetooth sniffing brings up," White said. "We use machine learning algorithms to take in not only the data we've collected from the sensors, but also data from other disparate data streams to get more accurate estimates of how many people are in a train car."
 
CREATE-X Startup Launch
After the Elbowroom team created the idea for their device along with a prototype of a Bluetooth sensor, they applied for Georgia Tech's Startup Launch, a 12-week program where students "intern" to launch their startups. Teams are provided with seed funding, legal services, makerspace, mentorship, and intellectual property protection.
"Launch provides students an incredible opportunity to create real startups," said Raghupathy "Siva" Sivakumar, director of CREATE-X. "We have helped launch more than 230 companies over the last six years. This is easily the largest number of student startups launched by any college campus in the country over this period."
"Elbowroom is a great example of how student founders can bring a fresh and scrappy approach to solving real problems while utilizing the latest technology in a cost-effective way," said Rahul Saxena, associate director of CREATE-X. "The team identified a societal need that they were highly motivated to solve, unencumbered by legacy or bureaucracy."
Through Startup Launch, Elbowroom gained access to invaluable resources, such as lawyers and community connections, and they learned how to network, give pitch deck presentations, and continue to develop their device. White also emphasized his newfound interest in networking and highlighted its importance for PopTracker's development and visibility.
"The biggest thing I learned from the Startup Launch program was how to be a more businesslike and startup-oriented leader," White said. "I feel so much more comfortable being part of the startup space going forward."
According to White, the most difficult part of the group's journey toward becoming a startup has been the technical development of the physical device and the device-related pitfalls the team has experienced. Additionally, the company found that they had to interface with other businesses to add certain data streams into their counting algorithms. This process was new to White and the team, and it was a complicated process to which the company had to adjust. Startup Launch gave the team the tools and connections necessary to adapt and develop as a company.
 
MARTA Pilot Program
To test their device and its ability to take in different data streams, Elbowroom established a developmental pilot program with MARTA – the Metropolitan Atlanta Rapid Transit Authority. They were introduced though one of the team's mentors, Melissa Heffner, VentureLab program manager, and pitched their idea — putting devices on some of their trains to test the algorithms and use the data it collects to further the development of the device.
"Through networking and our mentor's connection to MARTA, I eventually found someone at MARTA who listened to our crazy idea and saw the value in it, and realized that as engineers, we had the technical expertise to build something worthwhile," White said.
The pilot program entailed setting up four of Elbowroom's devices on MARTA train cars. After the team finishes development on the program they are currently working on, they hope to use the validation statistics obtained from their data to bolster Elbowroom and begin to branch out and work with other transit agencies.
Additionally, with the data from their devices on MARTA trains, the new company plans to market to transit applications that could use and broadcast the data collected by Elbowroom devices.
"The problem is not a lack of transit apps," White said. "The problem is that there are no data producers because this type of technology is too expensive for general public transport. We're going to develop an enterprise software through which agencies can access the transit car data in a way that's helpful for them to broadcast."
Looking to the Future
In the short-term, White said the company plans on collecting and utilizing the data from the MARTA devices, ensuring that their algorithm is fully operational, and eventually securing funding from venture capitalists. Moving forward, though, he's confident Elbowroom can survive in the multibillion-dollar worldwide Automated Passenger Counter industry and help people even as the pandemic begins to come to an end.
The team is still active in student startup competitions such as the Student IoT Innovation Challenge at Tech's Center for the Development and Application of Internet of Things Technologies, where they placed second.
Through the process of co-founding and being the public face of Elbowroom, White is interested in the possibility of combining his passion for biomedicine and biotech research with the startup space in his future career.
"Elbowroom has made me realize that I really love starting organizations, coordinating teams, and creating new products," White said. "I've always been interested in research, but the application of that research and translational engineering is what I want to do, and I'd love the opportunity to organize teams or even a biotech startup in the future."