Grillo a Georgia Author of the Year for His Debut Book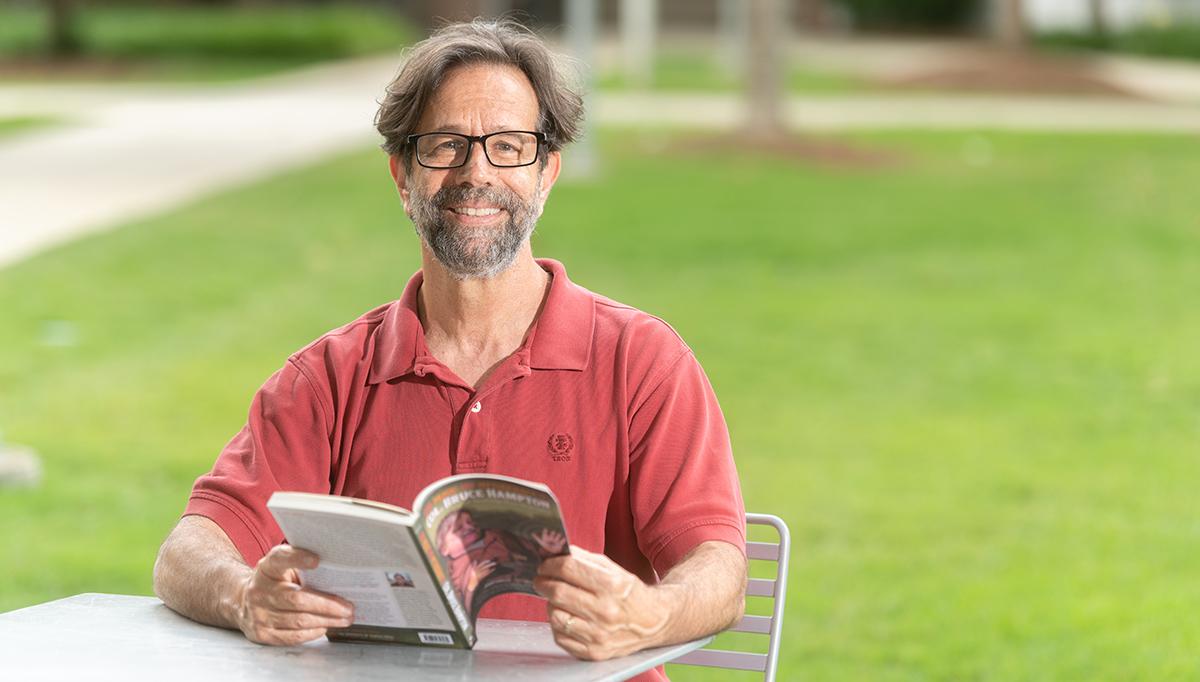 Jerry Grillo sits with his debut book, The Music and Mythocracy of Col. Bruce Hampton: A Basically True Biography, chronicling the story of the Atlanta jam band musician, performer, and all-around character. Grillo worked for nearly a decade on the tome, and he has been named the finalist among biographies in the Georgia Author of the Year Awards, one of two award-winners in the category. (Photo: Allison Carter)
Jerry Grillo decided in 2011 he had found the subject for his first book: influential Atlanta jam band musician, performer, and all-around character Bruce Hampton.
A decade later, Grillo published a painstakingly and lovingly crafted biography of Hampton titled The Music and Mythocracy of Col. Bruce Hampton: A Basically True Biography. Now, he has won a Georgia Author of the Year award for the work from Georgia Writers, a nonprofit community of writers across the state. His book was the finalist among biographies — one of two award-winners in the category.
"The author painted a moving portrait of the often-misunderstood life and times of a man who inspired creativity in others through his humor and his playing of some of the best music ever heard in America," author David Cady wrote in his judge's statement. "Most importantly, Grillo helps the reader see the world through Hampton's eyes — and he created a truly mesmerizing vision."
Grillo met Hampton in 2006 or 2007, he said, after hearing stories about the man and his music for decades. They bonded over sports trivia, became friends, and Grillo even wrote an article about him for a magazine. That's when Hampton's "long and crazily influential career" captured Grillo's attention.
"He was the most interesting person I've ever known," said Grillo, who works day-to-day as a shared communications professional between the Wallace H. Coulter Department of Biomedical Engineering and Georgia Tech Research Communications, breaking down complex research into accessible, easy-to-understand stories.
"Bruce had this magnetic personality, was an endless font of stories — many of them true — and had influenced and mentored hundreds of musicians, some of whom had gone on to huge careers in bands like the Allman Brothers, Widespread Panic, incarnations of the Grateful Dead, and the Tedeschi-Trucks Band, among others," Grillo said. "Meanwhile, Bruce was content to do his regional gigs with the occasional trip overseas for a big payday, and lay low. He considered himself a minor league manager."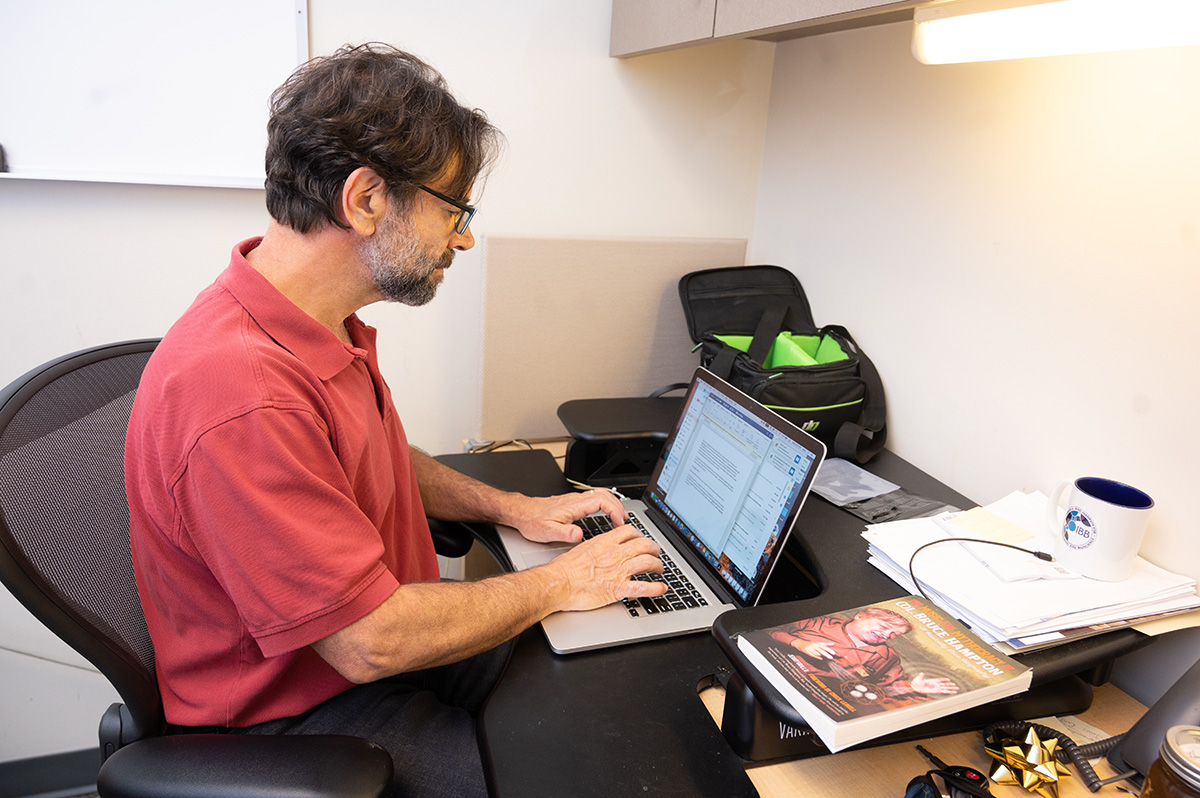 Left: Jerry Grillo holds his debut book, The Music and Mythocracy of Col. Bruce Hamption: A Basically True Biography, which he worked on for nearly a decade after meeting and becoming fascinated with the influential musician's career. Above: Grillo works on a story at his day job as a writer and communications professional telling the stories of researchers and students in the Coulter Department. (Photos: Allison Carter)
Grillo said it took a few years to finally ask Hampton about sharing his story, who responded in his trademark way: "He said, 'I was wondering when you were going to ask,' as if he already knew, but that was his sense of humor. Or, he already knew." That kind of interaction was par for the course for a man who was known for guessing — correctly — the birthday of most everyone he met and for so many outlandish tales it was hard for Grillo to separate truth from mythology (hence the book's title).
That sense of humor was also why no one was immediately concerned when Hampton collapsed on stage at the Fox Theatre in 2017 during a musical spectacular celebrating his 70th birthday. They thought it was more Col. Bruce Hampton antics; it wasn't, and Hampton died that night.
The book almost did, too.
"I actually had pages to show Bruce the night he died," Grillo said. "I scrapped the stuff I was going to give Bruce that night and put the book project on hold."
Grillo said he was so dispirited that he didn't know if he'd ever finish the project at that point. But about six months later, he picked it back up with a passion. He wrote in every spare moment, finishing his manuscript in less than two years (and seeing what he called "some pretty cool shows" along the way as he chased artists for interviews).
Now Grillo has turned his attention back to his first love: baseball. He said he's about six chapters into writing a biography of Hall of Famer Johnny Mize, who was from Demorest, Georgia, not far from Grillo's home.
Yet when he considers the acclaim his first book has earned from his fellow Georgia writers, Grillo is ironically quiet.
"I'm supposed to use words in my work, but it means more than I can say. I can't really grasp it," he said. "Mainly, I'm just filled with gratitude to be included in this terrific bunch of people."