College of Engineering Honors Maffey with Staff Innovation Award, Dinkins as a Soaring Jacket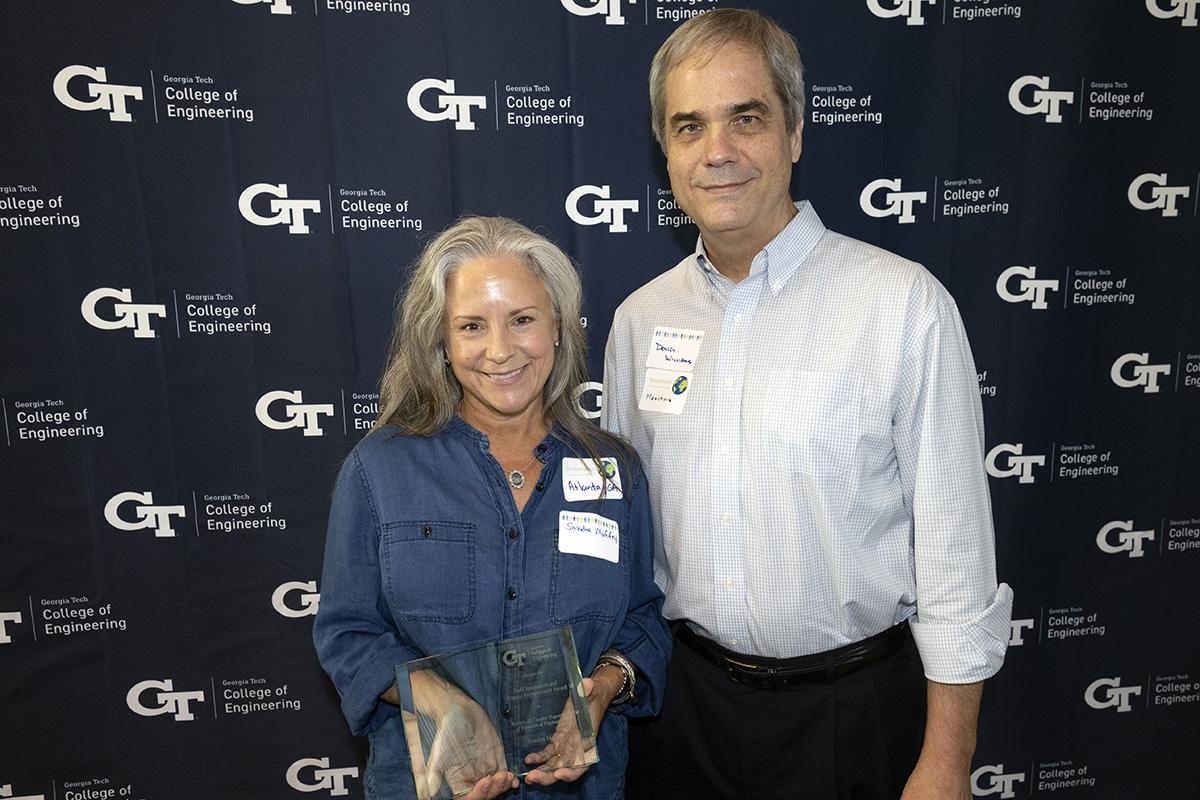 Sandra Maffey accepts her 2022 College of Engineering Staff Innovation & Process Improvement Award from Senior Associate Dean Doug Williams at the College's Staff Appreciation event. Williams also presented a Soaring Jacket award to Coulter BME's Tracie Dinkins, who was unable to attend. (Photo: Candler Hobbs)
The Georgia Tech College of Engineering has honored two staff members in the Wallace H. Coulter Department of Biomedical Engineering for their critical roles supporting students, faculty, researchers, and other staff.
Faculty Support Coordinator Sandra Maffey won a Staff Innovation & Process Improvement Award for her "game-chang[ing]" work as lead administrator for the Coulter BME awards committee. Financial Manager Tracie Dinkins received the Soaring Jacket award for 20 years of leadership in the joint Georgia Tech-Emory Department's finance office and navigating the nuances of protocols on two different campuses.
Professor Ross Ethier said Dinkins is "a lynchpin in managing Department finances" who solves problems creatively and alleviates the stress of managing his lab's complex budgets across both campuses.
"She is an amazing problem solver, works tirelessly to get done what is needed, is scarily competent, and quite frankly, is my anchor of calmness in the complexity of grant financial management," Ethier wrote in a letter supporting Dinkins' nomination. "Remarkably, she does her very demanding job while maintaining the most positive attitude of anyone I have ever met at Georgia Tech."
Dinkins was cited for deflecting credit to other members of her team and training virtually every member of the Department on financial procedures. And she was praised for working through complex negotiations to triple the number of Coulter BME students who can experience clinical settings without increasing costs to students or the Department.
Professor Machelle Pardue described Dinkins as an inspiration and a key contributor.
"She is an excellent mentor who maintains composure (and a sense of humor) in stressful situations," wrote Pardue, who was interim department chair at the time of the nomination. "Her approach creates a strong team spirit where each member develops the confidence to do their job well."
Maffey received similar praise for adeptly shepherding the Coulter Department's faculty and staff through numerous awards nomination processes, including helping the awards committee grow submissions by 140% over the last five years.
"Sandra has shown incredible effectiveness and helpfulness, stepping in to help all involved [in awards nominations]," wrote Coulter BME awards committee co-chair and Professor Eberhard Voit. "Moreover, she has consistently done it with a smile, good humor, and just the right amount of pushing and prodding to ensure things get done."
Voit noted Maffey has documented the timeline and details for dozens of awards, keeping the process from becoming overwhelming and helping ensure robust nominations. He also said not even one nomination has been lost in the shuffle since Maffey took over administrative leadership of the awards committee, and he credited her diligence and focus for that success. Maffey developed a tracking system for internal and external awards across both institutions, including documenting successful and unsuccessful nominations to help the committee improve from year to year.
Former Department Chair Susan Margulies praised Maffey for using faculty annual reports to collect information about the key professional society and other awards faculty members were eligible for. Margulies said this served to boost the alignment between candidates and the most highly valued awards.
"When I became Chair, our departmental awards nomination process lacked a process, and one of my priorities was to support and recognize faculty through more energetic and thoughtful awards nomination process," Margulies wrote. "Sandra was key to this entire activity."
The College of Engineering's annual staff awards are announced each year at the College-wide staff appreciation event.