BME Students' Surgical Devices Sweep Best Overall Project Awards at Fall 2021 Capstone Design Expo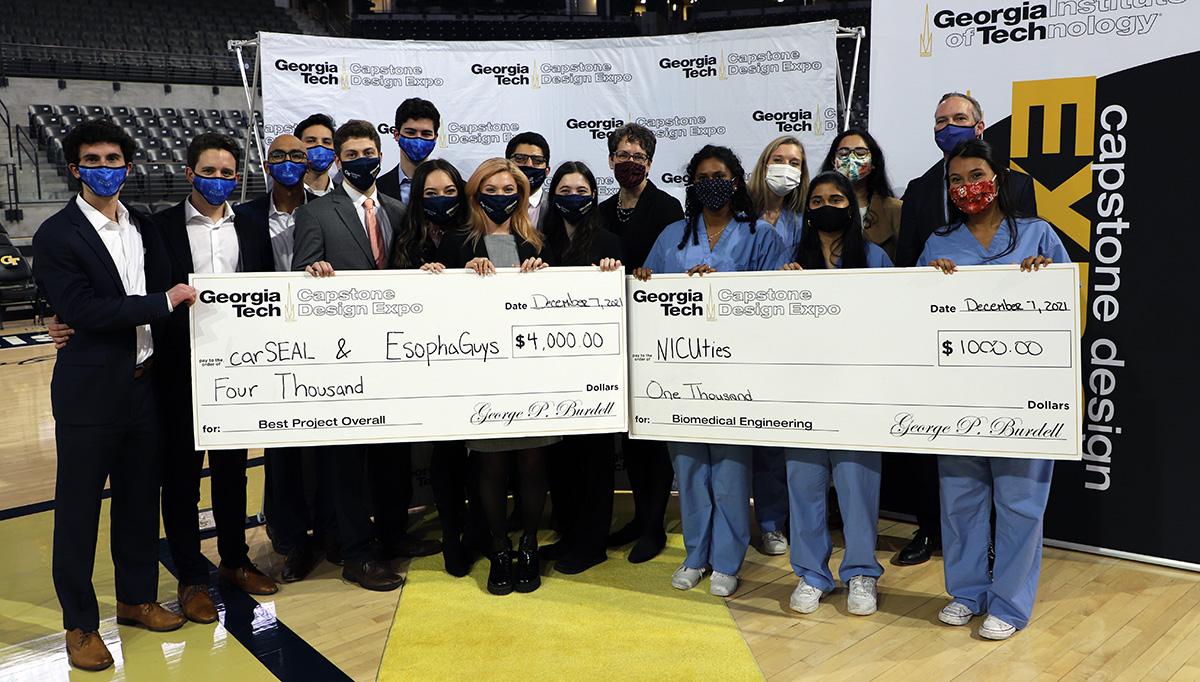 Biomedical engineering teams won both of the top project awards at the Fall 2021 Capstone Design Expo Dec. 7. For the first time, two teams won Best Overall Project —Team EsophaGuys for the online version of the expo and Team carSEAL for the in-person. The top BME team award went to NICUties. (Photo: Joshua Stewart)
The Wallace H. Coulter Department of Biomedical Engineering at Georgia Tech and Emory University made a clean sweep of the top prizes at the Capstone Design Expo Dec. 7 in the event's return to McCamish Pavilion after two years of virtual editions.
The best overall project prizes — $2,000 each — went to the BME students on teams called carSEAL and EsophaGuys. A team of four BME women, the NICUties, won the $1,000 prize that comes with winning the best project award among Coulter BME projects.
"These were great, impactful projects that took home some well-earned prizes, but we had a lot of great BME teams who worked on impactful projects sitting in the crowd, too," said James Rains, professor of the practice and director of BME Capstone. "Our students are so driven. At the end of the day, they make our Department look so good."
The Fall 2021 Expo was offered online for virtual attendees in addition to the in-person event. Judges considered 118 teams from seven schools or departments in three Georgia Tech colleges. The hybrid setup meant a new set of top honors for the best online interdisciplinary team and best online overall team.
That made it possible for the EsophaGuys team to win the Expo's first ever prize for best online overall project. The team of Madeline Beatty, Maxina Sheft, Samuel Gallemore, and Sydney Rosenberg developed a nasogastric feeding tube with a narrow balloon dilator attached. The device aims to ease treatment for children with esophageal strictures, or narrowing of the esophagus.
"These children go to the hospital to have their esophagus dilated, the most common treatment for strictures," Beatty said. "Currently, patients undergo multiple procedures under general anesthesia, which can lead to some severe neurological deficits down the line."
The team's device allows patients to receive repeated dilations in a single session with one dose of anesthesia, and not miss a meal during the lengthy process, "so they can receive dilations more gently and frequently, which we hope will have a more lasting impact," Beatty said.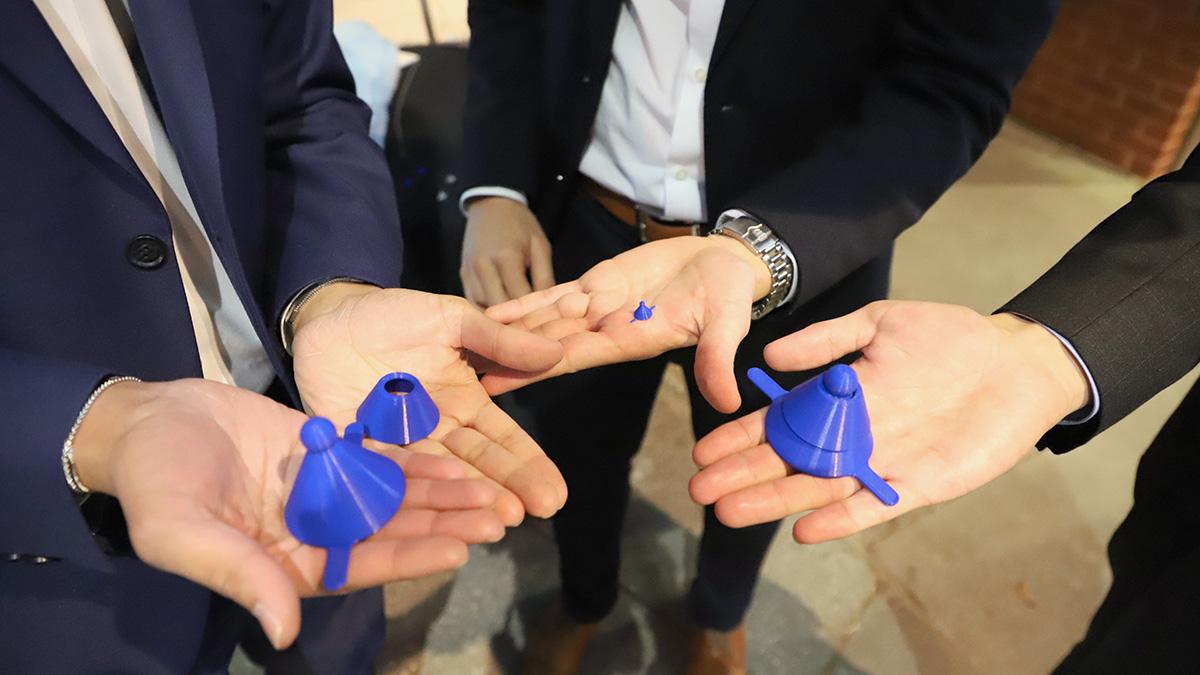 Members of Team carSEAL hold scaled-up versions of their device for closing the carotid artery after a catheterization following a stroke. Typically, surgeons feed a catheter from the femoral artery in the leg all the way to the location of the clot cutting off blood flow to the brain. Entering in the carotid instead can cut the procedure time in half and save millions of neurons that would otherwise die from lack of oxygen. But there's currently no reliable and proven way to quickly seal the artery after the procedure. (Photo; Joshua Stewart)
The best overall project in person was for Team carSEAL, a group of students who came into the Expo having already won two competitions held by Mayo Clinic, their sponsor. They created a vascular closure device that could significantly reduce the time it takes to perform a lifesaving thrombectomy after a stroke — a procedure where a catheter is inserted through the femoral artery in the leg and snakes its way through the blood vessels to remove a clot, usually in the cerebral arteries.
"It's generally a successful procedure, but it can take about an hour to go from your leg up to your brain, and when you've had a stroke, time is everything; you can lose hundreds of millions of neurons in an hour," said Joshua Cruz, whose teammates are Derek Prusener, Giancarlo Riccobono, Nicholas Lima, and Shovan Bhatia.
Surgeons have demonstrated that inserting a catheter through the carotid artery can cut the procedure time in half, but there aren't any approved devices to seal the artery afterward.
"The great thing about this device is, it not only closes the carotid artery — one of the most difficult blood vessels to close — but it'll close any other blood vessel, which makes it an extremely competitive product," Cruz said. "We designed ours for neurosurgeons, but we think it'll have applications for interventional cardiologists, radiologists, and others."
The team has produced a proof concept that has proven so promising — and their Mayo Clinic sponsors are so enthusiastic — that carSEAL will continue their project next semester in an advanced Capstone course. They're one of several BME teams at the Expo who said they will keep working on their devices in the spring.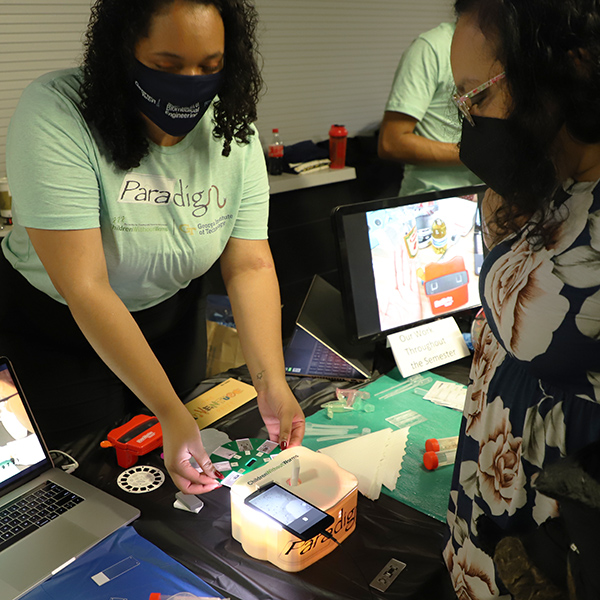 Milan Riddick demonstrates how Team Paradigm's custom device pairs with a smartphone and eight-plate microscope slide to create a high-volume field microscope, speeding the diagnosis of a common parasitic disease that affects 1.5 billion people worldwide. (Photo: Joshua Stewart)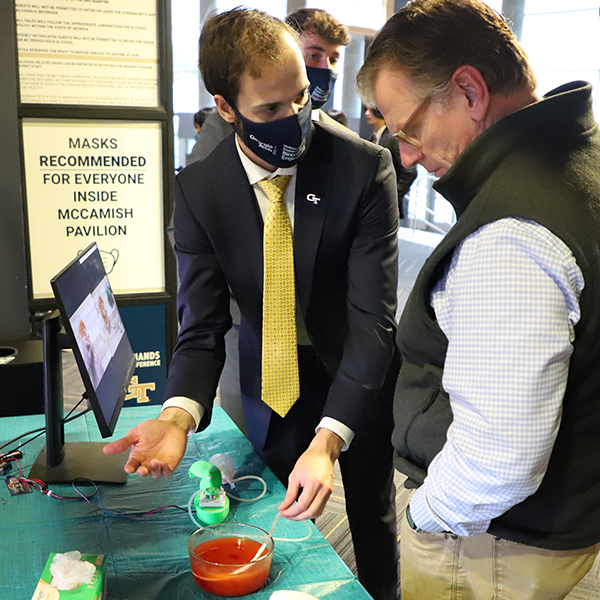 Maximilian Hollister explains the uDrain device to an attendee at the Fall 2021 Capstone Design Expo. The uDrain helps post-operative patients keep their surgical drains unclogged without any uncomfortable prodding and pulling. The handheld device aims to help patients avoid infection or other complications. (Photo: Joshua Stewart)
In all, there were 24 BME teams at the semester-ending event for senior design, and they presented a diverse range of projects: from ApeScape, a semen-collection device to monitor the reproductive health of male chimpanzees, to youRN Good Hands, urine output measurement for congestive heart failure patients.
Several teams focused on problems affecting the youngest patients, including those in resource-challenged communities: IncuMovers built a 2-in-1, no-power-required solution to keep newborns warm as they're moved in hospitals in developing countries; Baby Beatz developed a low-cost fetal heart monitor and accompanying algorithm that are portable, sustainable, and accurate.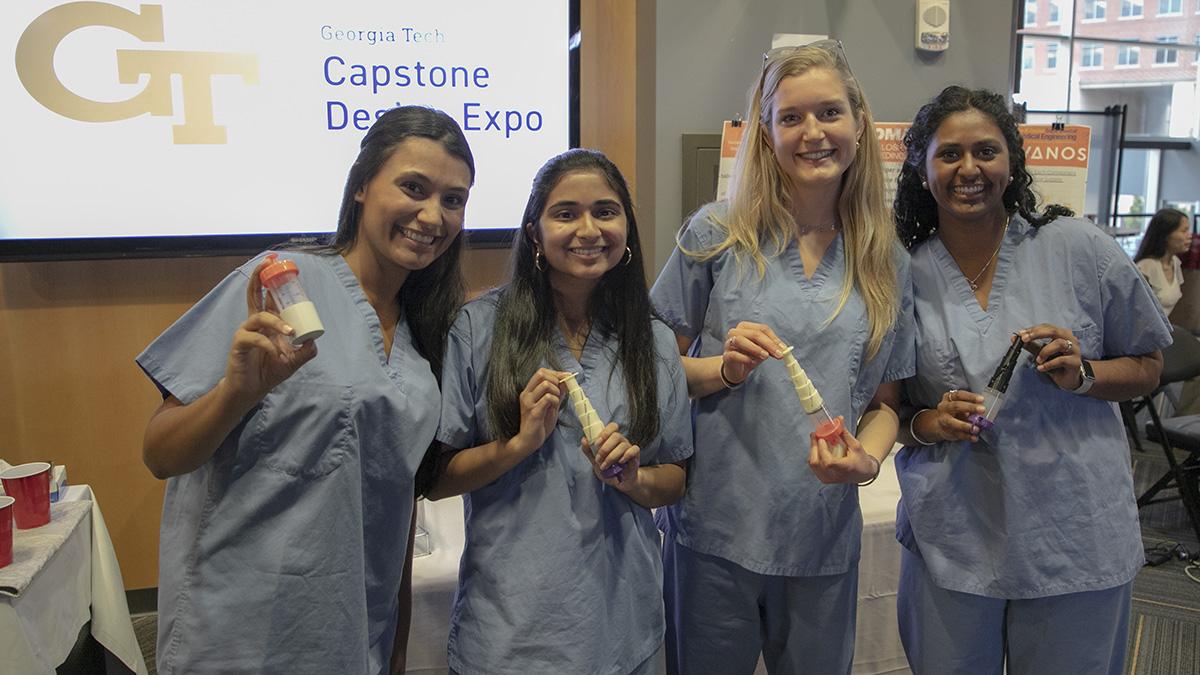 Team NICUties with their device that ensures premature babies get the vital fat content from the breast milk that they need in the neonatal intensive care unit. The newborns are typically fed via tube, but the process of collecting and handling breast milk usually results in the loss of key lipid content crucial for the growing babies. (Photo: Joshua Stewart)
For their project, the NICUties team worked to ensure premature babies receive as much of the critical and nutritious lipid fat in breast milk as possible.
"We found that a lot of fat gets lost," said Oriana Mateu Bastidas, whose team included Caroline Alting, Kiran Varadarajan, and Shaefali Padiyar. "Each time the milk goes from one production container to another, right up until it gets to the syringe pump and finally the baby, it loses fat. And the biggest loss is in the very first container, after a mother pumps. Our prototype combines all of these parts into one."
The NeoMate is a telescopic plunger and collection container that maximizes fat transfer. And the tool works really well: With NeoMate, 96% of the milk's fat was successfully transferred from the container. That's compared to 70% without the device. It dramatically outperformed devices made by Avanos, the company that sponsored the NICUties.
"We're extremely proud of that," Bastidas said. "We think we can revolutionize this space and help premature babies grow strong. That would be pretty cool."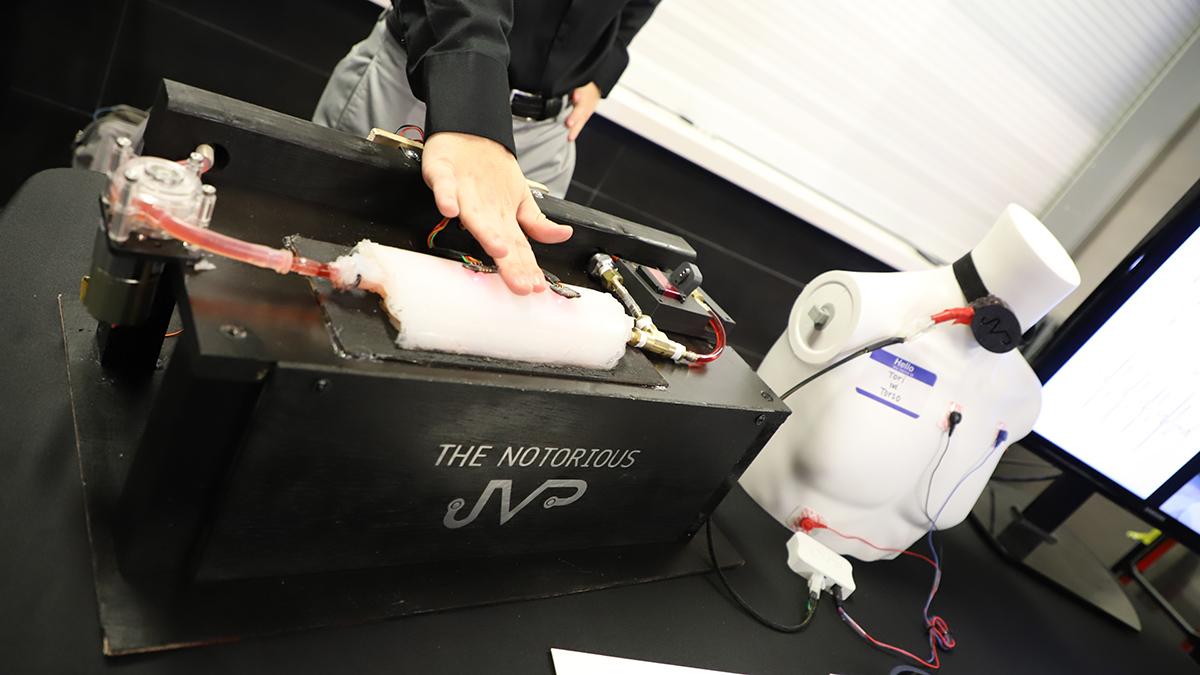 The Notorious JVP team demonstrates a wearable device that removes the guesswork and variability from measuring jugular vein pressure in heart failure patients. Their device automatically locates the jugular and assesses pressure reliably and objectively. (Photo: Joshua Stewart)