BME, Siemens Partner to Offer Innovation Certification
Dozens of students earned the credential thanks to a long-standing partnership between Georgia Tech and Siemens.
March 5, 2021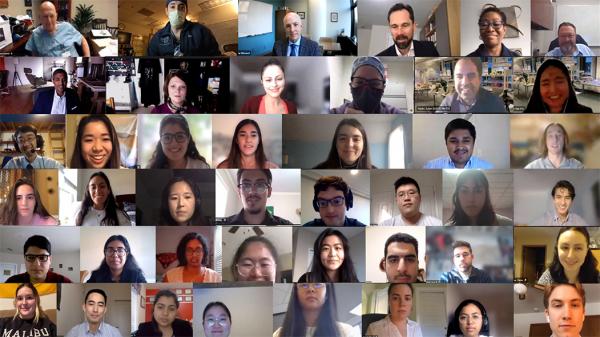 Dozens of Georgia Tech students participated in the Innovation Think Tank Certification Program from Siemens Healthineers, learning about innovation management, concept development, team building, and more. The free certification program was the result of a long-standing partnership between Georgia Tech and Siemens.
More than 75 students have received a free Innovation Think Tank certification from Siemens Healthineers, thanks to a longstanding partnership between the Georgia Institute of Technology and Siemens.
Organized by the Wallace H. Coulter Department of Biomedical Engineering at Georgia Tech and Emory but open to students across campus, the three-day program gathered students and professionals from 12 organizations in 17 countries to learn about innovative management methods and participate in a Shark Tank-like competition.
"The Innovation Think Tank Certification Program is a great opportunity to encourage healthcare innovation and translational solutions within our student body," said Ashley James, corporate relations manager in the Coulter Department. "The program served as a valuable development opportunity for Georgia Tech students and researchers, offering them another dimension of training to be future leaders in medtech and biomedical engineering. Alumni of the program speak highly of the abundance of knowledge and opportunity that Siemens Healthcare has been able to offer them in their careers."
Over three days in December, students learned the Innovation Think Tank approach used in 16 Siemens innovation labs across the world. They explored innovation management through experiential learning, team building, concept development, assessing challenges and root causes to identify solutions, and more. The culminating event was a competition and exhibition where cross-disciplinary student teams developed solutions to healthcare problems of their choosing, which were judged by industry professionals.
The Innovation Think Tank Certification Program continued a well-established partnership between Georgia Tech and Siemens that has resulted in a more than 100 Innovation Think Tank fellowships awarded to Tech students in the last five years. Those fellows have traveled to South Carolina, Germany, China, and other locations around the world to participate in the program.
Although many of the Tech students who participate in the programs are biomedical engineering majors, students from across the College of Engineering have found value, said Hannah Moon, global internship advisor in Georgia Tech's Office of International Education.
"Our students not only gain technical skills in their industry, but they've also told us about the leadership skills that they gain through the program as well," Moon said. "[They] benefit from a close community of fellow interns, both from Georgia Tech and other renowned universities around the world."
The program is always recruiting new fellows. Details about open opportunities on are the Innovation Think Tank website.