BME InVenture Finalists Turn Focus to Next Steps for Their Startups
The journey continues for BCase and CADe with a Kickstarter and the CREATE-X Startup Launch program, respectively.
March 18, 2021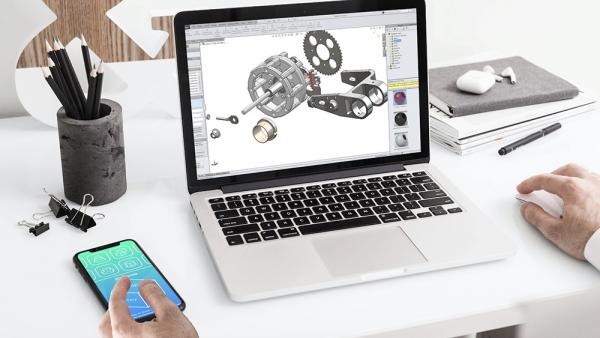 CADe is a smartphone app that turns a phone into a second input device for 3D computer-aided design software. Users can manipulate their models with the touch interface alongside the typical mouse-based functions. CADe was one of six finalists in the 2021 InVenture Prize. (Photo Courtesy: Team CADe)
Mar 18, 2021 —
Though they didn't win this year's competition, the InVenture Prize finals were hardly the end of the road for the two teams featuring students from the Wallace H. Coulter Department of Biomedical Engineering. Rather, they're already working on the next steps to turn their ideas into commercial products.
For fourth-year student Sammie Hasen and BCase, that means finishing the final days of a Kickstarter fundraising campaign. The proceeds will help her pay for the tooling to begin injection-mold manufacturing. For team CADe and Sean Cody, who earned his biomedical engineering bachelor's in December, the next step is the Startup Launch program this summer through Georgia Tech's CREATE-X program.
"The opportunity to be on stage in front of a lot of people is free advertising. A lot of people see this, and you're going to start to generate that original buzz," said Cody, whose team announced the app store release of their CADe smartphone app during the finals.  
CADe (pronounced like "Caddy") is an app that turns a smartphone into another input device for 3D computer-aided design (CAD) software, a tool used by millions of engineers every day. Users can manipulate the models using their phone's touch interface: pinch to zoom, use two fingers to move the model around, one finger to rotate.
"It's the movements that everyone in this day and age is familiar with using on a mobile interface, and because of that, a user can pick it up and start using it right away," Cody said. "CADe functions with your traditional mouse, so you're basically doubling your user input into the computer. You're improving the user experience of the app, and you're improving the user's efficiency."
Cody said initial tests showed users can see 20% efficiency gains using the CADe app on a phone in one hand and manipulating the mouse in the other. And with 20 million people using the most common 3D CAD packages, capturing just 5% of that market — the team's goal — would mean a million subscribers.
"We're excited to really launch this publicly and have a wider database of feedback," Cody said.
Hasen is, likewise, on the cusp of more user feedback. She's nearing the end of an already successful Kickstarter campaign, where she's outpaced her $3,500 goal and is still collecting donations. She has been 3D printing prototypes of her BCase birth control storage solution; the infusion of funding will allow her to scale up production.
BCase attaches directly to the back of a smartphone, where it discreetly carries birth control — or potentially any similar multi-pill pack.
Hasen came up with the idea after many an interrupted dinner or evening out with friends. Their smartphone alarms would go off to remind them it was time to take their pill, and they'd realize it was at home.
"We'd have to turn around, no matter where we were, and go get it," Hasen said. "It kept happening, and I was like, 'Why does this keep happening?'"
With BCase, the pill and the alarm are in the same place. Plus, who leaves home without their phone anymore?
"You know you're onto something when you have everyone saying, 'How has this not been done before?' It's just something that's so in plain sight that no one sees it," Hasen said. "Hopefully, this is the big product that people are like, 'Wow, this has really made my life easier.'"
Hasen said she's building more than a product and a business with BCase; she wants to build a platform to make women's lives better.
"I want to make sure that it is not just profiting off of women, but also supporting women," she said.
"Plan B, tampons, birth control, IUDs — they were all designed by men. There are huge user flaws to them because the designers never used the product," Hasen said. "My goal would be to have a primarily female team. I really want to make sure that the customer is the designer, and the designer is the customer."
The live, televised finals of the InVenture Prize March 17 capped a months-long journey for the six teams of finalists. Judges awarded first prize to Delta Jacket and second to StartProto. Delta Jacket also won the audience-voted People's Choice Award.
The judges included another biomedical engineer, Dev Mandavia, a 2018 graduate and the only two-time winner of the InVenture Prize.
"I think I wouldn't have had a chance this year," Mandavia said at the end of the live broadcast. "The quality of the teams gets better every year."