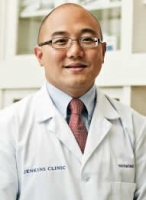 Raymond Pak
M.D.
Assistant Professor
Jenkins Clinic
404.240.9700
Research Interests:
Laparoscopic, endourologic, and robotic surgery techniques
Dr. Raymond Pak is a urologic surgeon at Piedmont Hospital in Atlanta with an expertise in minimally invasive laparoscopic, robotic and endoscopic surgery.  He has a special interest in using advanced technology to treat urological cancers, correct urologic malformations and treat kidney stone disease.
Dr. Pak received his Bachelor of Science and Doctorate of Pharmacy degrees from Rutgers University, followed by a medical degree from Rutgers New Jersey Medical School.   He completed his residency in general surgery and urologic surgery at the Mayo Clinic in Jacksonville, Florida.  He was then selected for an advanced fellowship in minimally invasive surgery at Thomas Jefferson University Hospital in Philadelphia, Pennsylvania.  Later, he obtained an MBA from the Scheller College of Business at the Georgia Institute of Technology.  He formerly served as the medical director of robotic surgery for The Jenkins Clinic in Atlanta, a non-profit urological center of excellence, prior to joining Piedmont Physicians. 
Dr. Pak is a diplomate of the American Board of Urology and an active member in several urological societies including the American Urological Association (AUA), the Endourological Society and the Society of Robotic Surgery (SRS).  He serves as an editor for several peer-reviewed urologic journals and has extensive publications in journals and textbooks.  He has several consulting relationships with local and national medical device corporations. 
As an adjunct professor and mentor to the BioID & BME students, he offers guidance to improve minimally invasive procedures with a focus on robotics, laparoscopy and endoscopic surgeries.