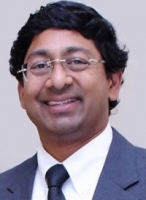 Ravi Bellamkonda
Dean, Pratt School of Engineering Duke University
DU: 305 Teer Engineering Bldg.
919.660.5386
Research Interests:
Neural tissue engineering, targeted drug delivery for brain tumor therapy, peripheral & central nerve regeneration, electrode-brain interfaces, long circulating contrast agents, polymeric biomaterials
 Prof. Bellamkonda's research interests lie at the intersection of biomaterials and nanotechnology as applied to the nervous system including peripheral and central nerve repair, brain tumor therapy and neural interfacing.  He also directs a T32 training grant called Rational design of Biomaterials, and a Graduate Leadership Program for BioE/BME graduate students and is a Georgia Cancer Coalition Distinguished Scholar.