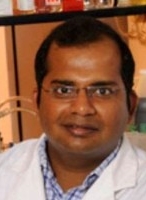 Muralidhar Padala
Assistant Professor of Cardiothoracic Surgery
Technology Enterprise Park Campus, 380-B Northyards Blvd
404.251.0651
Emory University, Joseph P. Whitehead Department of Surgery
Research Interests:
Cardiovascular mechanobiology in heart valve disease, heart failure and atherosclerosis; develop animal models of disease to modify mechanical environments; innovate new image guided interventions to treat cardiac diseases
Research Focus: As a primary faculty in cardiothoracic surgery with a secondary appointment in biomedical engineering, my research is at the interface of surgery and engineering. My laboratory focuses on:
Developing new technologies to improve surgeons ability to repair cardiovascular lesions. These technologies include image guided devices, biomaterials, and repair techniques.
Characterize the safety and efficacy of the devices, materials and techniques in robust bench and animal models.
Translate new technologies to human use, via close collaboration with clinicians, industry and regulatory bodies
Examples of current projects include: (Project 1) Development of a transcatheter image guided implant and catheter for mitral valve repair; (Project 2) Characterize the safety and efficacy of a new mitral valve repair technique in humans with ischemic cardiomyopathy; (Project 3) Determine the safety and efficacy of a novel anti-inflammatory biomaterial as a barrier to thoracic cavity adhesions in pediatric cardiac patients; (Project 4) Investigate the impact of mitral regurgitation induced volume overload on cardiac failure, and develop new devices to ameliorate cardiac dysfunction or provide mechanical circulatory support. (Project 5) Development of a novel non-glutaraldehyde treated biomaterial for use in pediatric heart valves.