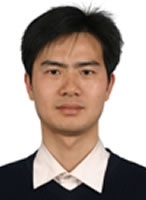 Haifeng Chen
Associate Professor
Leo KoGuan 2-104
+86-10-6275-4396
Peking University, Department of Biomedical Engineering
Research Interests:
Biomaterials, Bio-Nanotechnology, Tissue Engineering and Regenerative Medicine
Chen's lab focuses on the development of novel biomaterials for tissue repair and drug delivery using biomimetics principles and nanotechnologies. We are studying tooth regeneration, scaffolds for tissue engineering and dental materials.
Tooth regeneration: Tooth decay is a widespread infectious disease experienced by most of the population due to dental disease, natural abrasion and aging. The aim of this research is to take advantage of the latest developments of nanotechnology, together with the basic knowledge of the biological processes involved in tooth development, to regenerate the biomimetic dental structure for dental care.
Scaffolds for Tissue Engineering: The research scheme is to apply hydrogel and electrospun nanofibers to fabricate nanoscaffolds to mimic the structure of natural extracellular matrix (ECM) which is able to promote the migration of cells and facilitate the growth of blood vessels into the scaffolds.
Dental Materials: We are interested in developing nanocomposite, resin, cement, coating and ceramics for dental clinic.