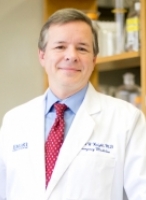 David W Wright
M.D.
Clinical Professor
Director of Emergency Neurosciences
Facutly Office Building Suite 126
404.778.1709
Research Interests:
Concussion, Traumatic Brain Injury, Neurological Emergencies, Health innovation technologies
David Wright, M.D., is a tenured associate professor of emergency medicine and director, Emergency Neurosciences, Department of Emergency Medicine at Emory University School of Medicine. He is actively involved in both the preclinical and clinical assessment of traumatic brain injury (TBI) and stroke. He has extensive clinical trial experience and is currently one of the top 3 NIH funded emergency medicine researchers in the United States.
Dr. Wright's goal is to transform healthcare through the development of advanced technologies, especially for neurological diseases. He is an adjunct faculty in the Department of Biomedical Engineering at the Georgia Institute of Technology and works closely with an elite team of engineers at the Georgia Tech Research Institute where he participates in numerous concussion research and technology development endeavors. He is the Co-inventor of the DETECT technology, a rapidly deployable, easily administered, comprehensive system for the assessment of concussion and other neurological disorders.