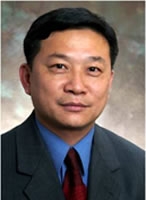 Hui Mao
Professor of Radiology and Imaging Sciences, Adjunct Professor of Biomedical Engineering
Wesley Woods Health Center 211
404.712.0357
Research Interests:
Biomedical imaging, magnetic resonance imaging and spectroscopy, cancer imaging, neuroimaging, molecular imaging and probe, contrast agent, theranostics, nanomedicine, nanomaterials, image guided drug delivery,
We are interested in developing and using multidisciplinary approaches to address biological and medical problems.  Furthermore, we seeks their applications in translational sciences and clinical medicine.  Research in Dr. Mao's laboratory is currently focused on developing and utilizing imaging technologies and agents, especially magnetic resonance and molecular imaging methods, with strong emphases on translational research and potential clinical applications to the clinical management of major diseases, such as cancer and neurodegenerative diseases. By developing imaging and analytical methods and tools capable of revealing physiological, biological or disease processes at the molecular and cellular level in living systems, Dr. Mao's laboratory attempts to link molecular, cell biology and biomarker discovery to non-invasive imaging and in vitro diagnostics of biological and disease events and processes in patients.
Current research projects in our laboratory, supported by several NIH grants, include:
Develop biomarker targeted MRI contrast agents and multimodal imaging probes for in vivo molecular and cellular imaging of cancer and cardiovascular diseases;
Develop novel nanomaterial and nanotechnology for medical applications, especially imaging and image-guided delivery of therapeutic agents;
Develop NMR/MRS based metabolomics for profiling cell or tissue metabolites in vivo and ex vivo to investigate the potential metabolite markers for improving the specificity of cancer detection and for early diagnosis of neurodegenerative diseases;
Develop clinical applications of functional MRI, diffusion tensor imaging (DTI) and perfusion MRI for imaging and study of brain functions, brain disorders and diseases;
Develop new imaging strategies and tools for monitoring and tracking therapeutic cells in regenerative and immunotherapies.