Gene Editing / Gene Therapy Seminar Series
Agnieszka Czechowicz - Assistant Professor of Pediatrics, Stanford University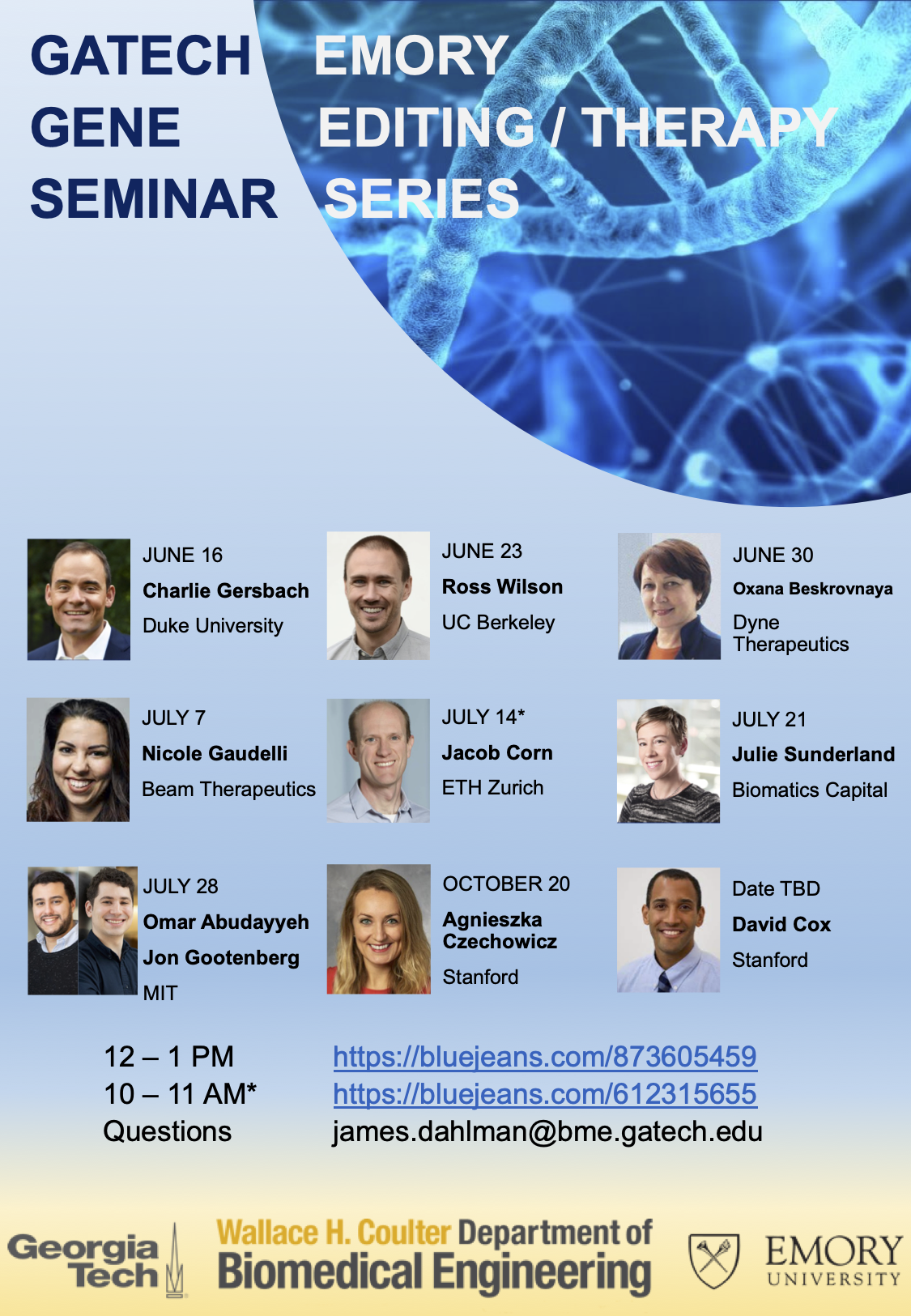 Agnieszka Czechowicz
Assistant Professor of Pediatrics
Stanford University
Join this virtual event via BlueJeans
BIOGRAPHY
Prof. Agnieszka Czechowicz is a physician-scientist and biotech entrepreneur with 20 years of experience in stem cell biology and translational research. Dr. Czechowicz is a faculty member in Stanford University's Department of Pediatrics, Hematology, Oncology, Stem Cell Transplantation and Regenerative Medicine Division.
Dr. Czechowicz's primary clinical interests are in bone marrow failure, aplastic anemia, and other diseases that necessitate stem cell transplantation. Her primary research interests are in transplantation, gene-therapy/gene-editing and regenerative medicine. Multiple pre-clinical and clinical therapies are in development based upon her studies.
Dr. Czechowicz's pioneering work has led to critical developments within the life sciences ecosystem. She is the scientific co-founder of Magenta Therapeutics, and her inventions on antibody-based conditioning have also been licensed and are being pursued by Jasper Therapeutics and Forty Seven Inc (acquired by Gilead in 2020). Her efforts have also led to critical patents in development at Editas Medicine and Decibel Therapeutics. Previously, Dr. Czechowicz spent nearly a decade as a consultant at Third Rock Ventures, where she assisted and started companies including Global Blood Therapeutics, Bluebird Bio, Editas Medicine, Decibel Therapeutics and Magenta Therapeutics. She has also advised Beam Therapeutics and Spotlight Therapeutics.
Dr. Czechowicz completed her Ph.D. work in the stem cell biology at Stanford University with Prof. Irv Weissman. She then completed her residency in Pediatrics at the Boston Children's Hospital, and subsequently pursued subspecialty training in Pediatric Hematology and Oncology at the Dana Farber Cancer Institute while simultaneously conducting postdoctoral research with Prof. Derrick Rossi in collaboration with Prof. David Scadden. She received her M.D., Ph.D., and Bachelor's Degree from Stanford University.
Dr. Czechowicz is a strong physician-scientist and advocate of translational research. She has done pioneering work showing that hematopoietic stem cell depletion is a critical component to donor hematopoietic stem cell engraftment. She has also led several clinical trials exploring new treatments for Fanconi Anemia. She is passionate about mentoring and training future generations of physicians and scientists, and is very supportive of helping diverse trainees on various traditional and non-traditional career paths.
The Gene Editing / Gene Therapy Seminar Series features leading academic, translational, and investor speakers in e-talks through the summer and fall.